Shadow Warriors: The Irish Army Ranger Wing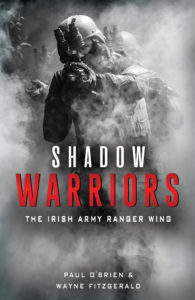 Shadow Warriors: The Irish Army Ranger WingThis is the first and only authoritative account of the Irish Army Ranger Wing. Formed in the spring of 1980, this special forces' unit is made up of the best of the best, selected through tough competition and trained in an extraordinary range of skills. Despite being deployed on active service both at home and on United Nations missions in trouble hotspots abroad, including Liberia, Mali and Lebanon, the Rangers prefer to stay out of the limelight.
Now, military historian Paul O'Brien and Sergeant Wayne Fitzgerald, editor of An Cosantóir: The Defence Forces Magazine, have been granted access to their closed and clandestine world. With accounts of the unit's inception, their arduous selection process, their training and their national and international missions, Shadow Warriors provides an unprecedented look at Ireland's toughest army unit.
Published by Mercier Press April 2020 – ISBN: 978-1-78117-762-4 – €12.99 (180pp) www.mercierpress.ie/irish-books/shadow-warriors-book/