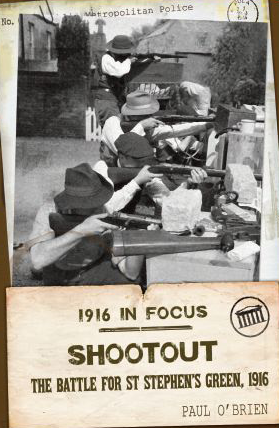 As the Proclamation of the Irish Republic was being read from the steps of the General Post Office on Sackville Street on Easter Monday 24th April 1916, 160 members of the Irish Citizen Army under Commandant Michael Mallin were taking up position around St. Stephen's Green.
For seven days, from their posts in St. Stephen's Green and City Hall, this small force of men and women fought against British soldiers as they struggled to protect the newly proclaimed Irish Republic.
For almost a century, accusations of poor strategic awareness and a lack of organisation have been levelled against Mallin and his force for their actions during that Easter week.
In this new work, Paul O'Brien shows that, despite being outnumbered and outgunned, Mallin carried out his orders and fought with tenacity during this vital part of the Easter Rising. "Paul O'Brien's expertise on the period and fascination with it shines through…" – Entertainment.ie on Crossfire
Published by New Island Books, March 2013 – ISBN: 978-1848402119 – PB €9.95 (128pp)